6 High-Protein Snack Recipes to Help You Hit Your Protein Goals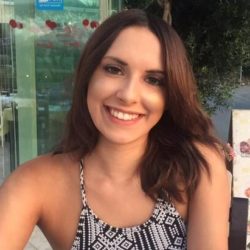 When you're just starting out on a weight loss regime, the first thing people will tell you is to increase your protein intake. And they're not wrong.
Protein is a key macronutrient to keep topped up when you're trying to lose the pounds – better yet, it keeps you fuller for longer between meals so you're less likely to overeat[1].
Protein may also help prevent slumps throughout your day because it's digested slowly by the body – and can therefore provide a steady stream of energy.
While most of your protein should come from your main meals, snacking on this macronutrient throughout the day will ensure levels stay topped up. What's more, protein provides fewer calories per gram of food compared to fat for example.
In this article, we take a look at the best high-protein snack recipes to power you through the day. Before we get into them, let's take a look at why protein is so important for weight management.
Why do you need protein?
If you're trying to lose weight or build muscle, then you should understand the need for protein, not only for improving satiety and enhancing muscle growth but for boosting your energy levels and helping you lead your physically demanding lifestyle[2].
Protein is a key macronutrient that has major benefits for weight loss and metabolic health[3] [4]. It can positively influence your health and weight in many ways including[5] [6] [7]:
Reduced hunger – Protein works to reduce levels of your hunger hormone, ghrelin. It's also said to increase levels of the peptide YY, a hormone that increases feelings of fullness.
Boosted vitality – Snacking on protein will keep your energy levels high throughout the day as it's digested slowly by your body.
Metabolism hike – Protein is extremely thermogenic, meaning it burns more calories to be digested and absorbed by your body.
Muscle maintenance – Protein promotes muscle growth especially if you're weight training. Maintaining muscle is key if you're trying to lose fat – this is because muscle is much more metabolically active than fat. Muscle requires more calories to stay up and running, so the more muscle you have, the higher your metabolic rate should be and the more calories you'll burn through – even when resting[8].
Recovery support– After a workout, protein supports muscle recovery by improving protein synthesis – the process in which your body builds new proteins for muscle repair.
6 High-Protein Snack Recipes
From sweet to savory, these protein-filled picks are guaranteed to squash hunger and replenish levels of this important macronutrient.  Check out our top high-protein snack recipes here.
1. Almond Poppy Crackers
Are you a fan of savoury crackers? These crackers require minimal ingredients, are very easy to make, taste delicious and are naturally gluten-free. Each cracker provides you with 2 grams of protein.
Ingredients

Makes about 20 crackers
1 ½ cups ground almond flour
1 large egg white
1 tablespoon poppy seeds
1 tablespoon olive oil
1 teaspoon fine grain salt
Method
Preheat oven to 350°F and line a baking sheet with parchment paper. Put this to the side.
Grab a large bowl and combine almond flour, poppy seeds, olive oil, salt , and egg white. Mix well.
When mixed, transfer the blend to the lined baking sheet. Cover with a sheet of parchment paper and using a rolling pin, roll out dough to a thin rectangle about 8-by-12-inch rectangle.
Slowly peel off the top parchment paper sheet and slice into crackers using a pizza cutter or paring knife.
Place in the oven and bake until golden brown for about 12 to 14 minutes
Remove from the oven and let the crackers cool. Once they're cool, carefully snap the crackers apart along the score line. You can store at room temperature in a container with a tight-fitting lid and eat them within a week.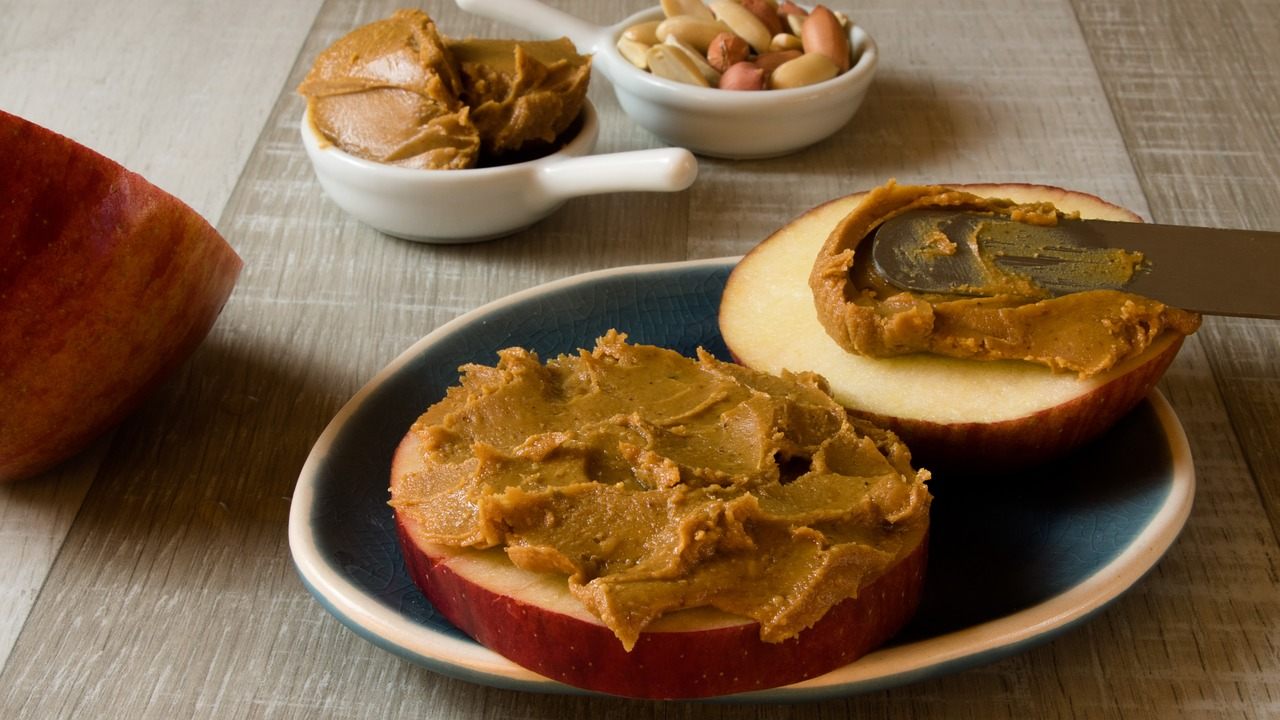 2. Apple Slices with Peanut Butter
This fruit and nut combo delivers a salty and creamy hit with a crunch. Better yet, it doesn't break the bank. This recipe delivers a whopping 10g protein.
Ingredients
1 medium apple
40g peanut butter  (crunchy or smooth)
Method
Chop the apple into eight slices.
Spoon out the peanut butter and butter each slice of apple. You'll want to eat this all in one go.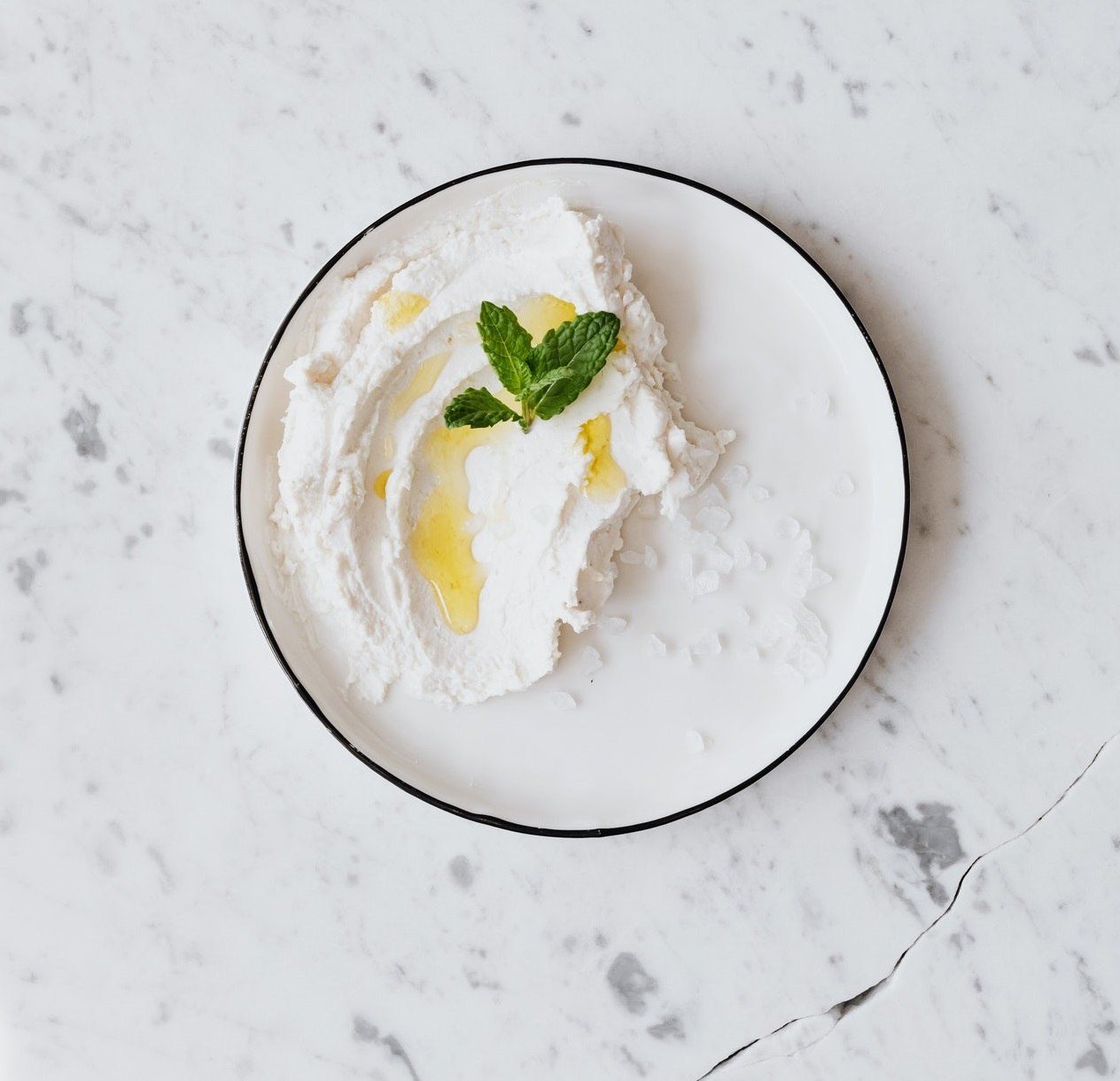 3. Cottage Cheese on Toast
Yes – toast can be a high-protein snack to be enjoyed morning, noon and night. You could make this recipe sweet or savoury (since cottage cheese is really neither). Simply add a sprinkle of cinnamon or a dash of black pepper for more flavour. This recipe provides 4 servings with 8.6g protein per serving.
Ingredients
4 slices wholegrain bread
1 cup cottage cheese
8 teaspoons butter
Black pepper  (optional)
Cinnamon (optional)
Method
Place the bread in a toaster and grill until crunchy.
Spread the toast with the butter and then add the cottage.
Sprinkle with cinnamon or black pepper to taste.
4. Frozen Yogurt Cherries
This recipe would make a lovely healthy treat in the heat. At only 190 calories and 14g of protein per serving, these frozen yogurt cherries are seriously fun to make (and eat!).
Ingredients
½ cup plain 2-percent-fat Greek yogurt
1 teaspoon honey
8 cherries (fresh or frozen), pitted
1 tablespoon pistachios, chopped
Method
Grab a shallow, freezer-safe container and line it with parchment paper.
In a bowl, stir together the yogurt and honey.
Once mixed. Dip the cherries in the yogurt mixture, making sure they're coated evenly.
Place in the parchment-lined container, making sure they're not touching. Sprinkle over with the chopped pistachios.
Cover and freeze until the yogurt is set. This should take about 3 hours.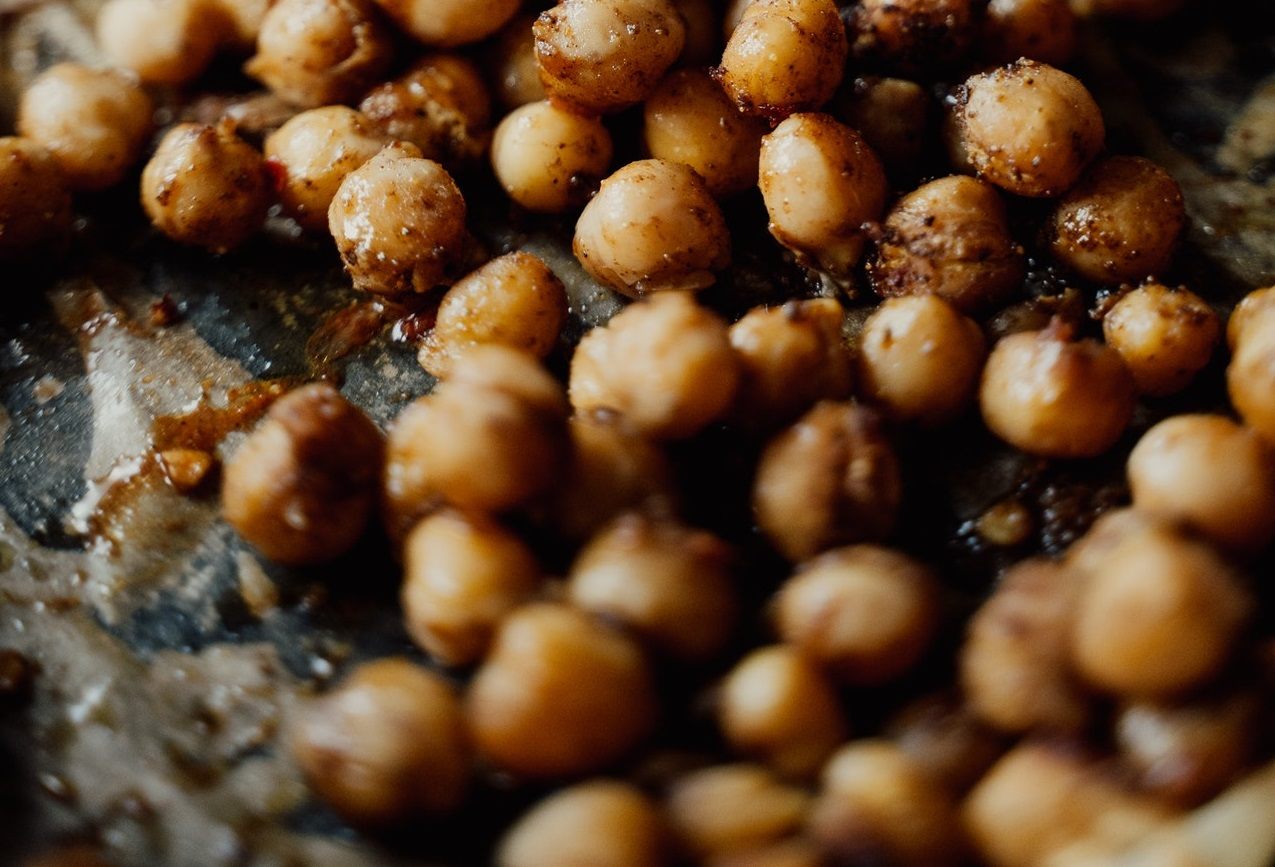 5. Spicy Roasted Chickpeas
Great on the go, these roasted chickpeas are a delicious high-protein snack that can be stored and eaten anywhere. Each serving provides 7g protein.
Ingredients
1 can chickpeas, rinsed and drained
1 tablespoon olive oil
2 teaspoons maple syrup
½ teaspoon cayenne pepper
¼ teaspoon salt
Method
Preheat the oven to 400°F and prepare a baking tray with parchment paper.
Sprinkle the drained chickpeas on top of the baking sheet, drizzling with oil and syrup.
Then, season with the cayenne pepper, making sure they're all coated.
Roast for up to 35 minutes, tossing after 15 minutes, until they're golden brown.
Make sure they're completely cool before serving. There you have it, a high-protein snack ready to take anywhere!
6. Chia Seed Pudding
Grab yourself a sweet high-protein pick-me-up with this chia pudding. It's packed with healthy fats and fiber and delivers 14 grams protein per serving.
Ingredients
1 cup unsweetened almond milk
1/4 cups chia seeds
2 tablespoons honey
1 cup plain Greek yogurt
Fruits like blueberries, bananas, or raspberries
Method
In a small container, add the unsweetened almond milk, the chia seeds and honey.
Pour in the Greek yogurt, adding any fruits like blueberries, bananas or raspberries.
Stir it all together and leave to refrigerate overnight.
Summary
Ready to get busy in the kitchen? There's no need for boring snacks when Hourglass Fit Academy has you covered.
Mix up your snacking schedule with these protein-packed options and you'll find your weight loss journey a lot easier! Why not try blending a few of the recipes and seeing what you can come up with? After all, creativity is key on a weight loss regime.
References
[1] https://www.ncbi.nlm.nih.gov/pubmed/15466943
[2] https://pubmed.ncbi.nlm.nih.gov/18448177/
[3] https://www.ncbi.nlm.nih.gov/pubmed/18448177
[4] https://www.ncbi.nlm.nih.gov/pubmed/15941879
[5] https://www.ncbi.nlm.nih.gov/pubmed/15466943
[6] https://pubmed.ncbi.nlm.nih.gov/24092765/
[7] https://www.ncbi.nlm.nih.gov/pubmed/15466943
[8] https://www.healthline.com/nutrition/cardio-vs-weights-for-weight-loss#TOC_TITLE_HDR_3